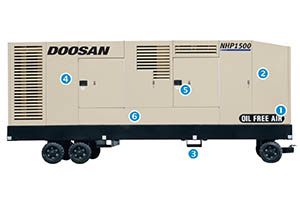 เครื่องปั๊มลมชนิดลากจูงปราศจากน้ำมันOil free air compressor
กว่า 125 ปี Doosan Portable Power เป็นผู้นำด้านเทคโนโลยีเครื่องปั๊มลมของโลก ในด้านความเป็นผู้นำนี้เราใช้เครื่องปั๊มลมชนิดปราศจากน้ำมันรุ่น 1500 ซึ่งถูกสร้างขึ้นมาโดยเฉพาะเพื่อการใช้งานที่ต้องการใช้อากาศที่มีคุณภาพสูงรวมไปถึงโรงงานปิโตรเคมีและโรงไฟฟ้านิวเคลียร์
รุ่น 1500 ได้รับการออกแบบอย่างพิถีพิถันเพื่อตอบสนองความต้องการของลูกค้า รุ่นนี้ได้ให้พลังงานและกำลังที่ใช้เชื้อเพลิงอย่างมีประสิทธิภาพด้วยคุณสมบัติที่ใช้งานง่าย และเป็นไปตามมาตรฐานการปล่อยมลพิษในปัจจุบัน
เครื่องปั๊มลมที่มีประสิทธิภาพสูงนี้จะช่วยให้คุณได้รับประโยชน์สูงสุดระยะยาว
รุ่น: NHP1500WCU-EX-T3
High performance, easy operation and outstanding control
For more than 125 years, Doosan Portable Power has been the world leader in compressor technology. That tradition of leadership continues with our 1500 model oil-free compressor, built specifically for applications quality air is a must, including petrochemical and nuclear facilities. Carefully designed to meet your specific demands, the 1500 provides the power, fuel efficiency and easy-to-operate features you need while meeting current emissions regulations. This high performance compressor will help you get the most out of your long-term rental dollar.
Superior features add up to superior performance
Reliable and durable design

To protect against impurities, the 1500 offers stainless steel interconnecting piping and a corrosion resistant intercooler and aftercooler. The 1500 can also run at full load for at least 10 hours with the onboard fuel supply, which can easily be connected to an auxiliary fuel tank.
Easy to maintain

The fluid systems on this compressor are conveniently located and make it easy to maintain fluid levels. Central drain systems are standard for easy servicing.
Maximum airend efficiency

Extensively field-proven in industrial applications, our twostage, oil-free airend is the heart of the machine. Each set of rotors is precision-machined in a 20-step manufacturing process and has an UltraCoat™ finish that not only optimizes the rotor profile but resists corrosion. This is essential to minimizing air slippage and maintaining airend efficiency.
Power in any climate

The 1500 has excellent ambient capabilities, performing in hot climates as well as in temperatures as low as -20 degrees F. The cold-weather protection system gives you the improved response time needed before the machine comes up to temperature and can begin working.
Intelligent control

Our Intellisys® control system is a comprehensive operational, diagnostic and safety interface. Known for its user-friendly features, this system is built into the 1500 and carefully structured to provide as much or as little information as necessary. It also allows compressor operating parameters to be fine-tuned quickly and easily.
Continuous air delivery in an environmentally friendly compressor
Continuous air delivery

With an operating pressure of 150 psi, our 1500 oil-free compressor provides exceptional application flexibility. It's capable of continuous 1,500 cfm (42.5 m3/ min) free air delivery between 60 and 150 psi (4.1 and 10.3 bar), and works well in applications constant volume is as important as correct pressure. Designed for optimal efficiency, the 1500 also eliminates the need to reduce flow as pressure requirements increase.
Environmental awareness
The 1500 features a sealed base designed to hold fluid spills, thus preventing potential on-site contamination. In addition, water precipitated the air stream by the intercooler and aftercooler is collected and routed through our patented condensate burn-off system. This is a significant benefit if you're operating in humid conditions condensate disposal can exceed one ton per day — as well as in cold conditions condensate can freeze in temporary drainage systems.
Superior features add up to superior performance
#Reliable and durable design #Easy to maintain #Maximum airend efficiency #Power in any climate #Intelligent control
Continuous air delivery in an environmentally friendly compressor
#Continuous air delivery #Environmental awareness
Model

NHP1500WCU

Engin

Make/Model

Cummins/QSX-15

Emissions Tier Level

Tier 3

Number of Cylinders

6

Cylinder Bore – in (mm)

5.4 (137)

Cylinder Stroke – in (mm)

6.7 (170)

Displacement – cu in (L)

915 (15)

Rated/Idle Speed – rpm

1800/1200

Bhp @ Rated Speed (kW)

600 (448)

Fueling/Cooling

Diesel/Water

Electrical Volts/CCA

24/1400

Engine Oil Capacity – gal (L)

96 (90.8)

Radiator Coolant Capacity – gal (L) 2

5.5 (96.5)

Fuel Consumption @ 100% Load – gph (L/h)

25.8 (80.6)

Fuel Tank Capacity – gal (L)

300 (1136)

Operating Time @ Full Load – hr

11.6

Rotary Screw Co

Rotary Screw Compressor Number of Compression Stages

2

Free Air Delivery – cfm (m3 /min)

1500 (42.5)

Rated Operating Pressure – psig (bar)

150 (10.3)

Pressure Range – psig (bar)

60 – 150 (4.1 – 10.3)

Air Discharge Outlet Quantity/Size – in (mm)

1/3 (76.2)

Lube Oil Capacity – gal (L)

20 (76)

Dimensions with wagon steer running gear

Length With/Without Drawbar – in (mm)

287 (7290)/237 (6020)

Height – in (mm)

98.3 (2497)

Width – in (mm)

77.5 (1969)

Shipping Weight – lb (kg)

19600 (8889)

Dimensions without running gear

Length – in (mm)

237 (6020)

Width – in (mm)

89.8 (2281)

Height – in (mm)

91.3 (2319)

Shipping Weight – lb (kg)

19000 (8617)
#NHP1500WCU #Cummins/QSX-15 #Engin #Rotary Screw Co #Dimensions with wagon steer running gear #Dimensions without running gear
---