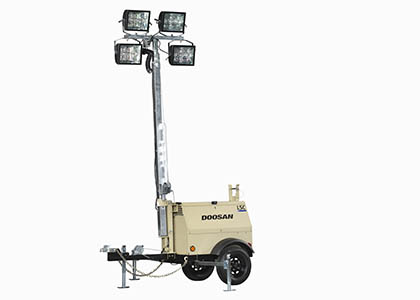 เครื่องส่องแสงสว่างLighting Tower
Standard features
ใช้เครื่องยนต์ที่ไว้วางใจได้และได้ตามมาตรฐานการปล่อยมลพิษของ EPA Tier 4 ทนทานต่อทุกสภาพอากาศ ยึดติดกับ floodlight สามารถต้านแรงลมได้มากกว่า 65 ไมล์ต่อชั่วโมง ติดตั้งกับขาตั้งสามารถปรับระดับแผงไฟแบบมาตรฐานและแบบ LEDได้
เครื่องส่องแสงสว่างรุ่นมาตรฐานใช้หลอด Metal Halide ขนาด 1,000 วัตต์ ในโครงอลูมิเนียมสำหรับเพิ่มความทนทานและครอบคลุมพื้นที่ส่องสว่างที่กว้างขึ้น
เพลาที่ใช้ออกแบบมาสำหรับงานหนักทำให้ไม่มีปัญหาในการเดินทางบนถนน มีระบบตัดดับป้องกันเครื่องโดยอัตโนมัติ เมื่ออุณหภูมิน้ำหล่อเย็นของเครื่องยนต์สูงและความดันน้ำมันเครื่องต่ำ
Powerful Solutions
At Doosan Portable Power, we do more than provide superior products. We deliver powerful solutions to move your business forward. Robust compressors that perform on the
most demanding job sites. Generators and light towers that are reliable and effi ient. Factor in our industry-leading service and support, and it's quite clear that partnering with
us is a smart return on your investment.
Dependability
Our equipment is built to last with corrosionresilient galvanneal steel enclosures and a durable,
baked-on powder coat fin sh. Extensive testing at our Statesville, North Carolina facility includes a
test track, tilt table, and cold chamber to ensure our machines will perform in the harshest conditions
and applications. Doosan is fully committed to delivering quality machines that maximize uptime and minimize
downtime to give you peace of mind.
Performance
Doosan Portable Power gives you the power you need in the most effi ient manner. We provide
leading fuel economy and performance while ensuring compliance with the latest emissions
standards. Doosan also offers unmatched versatility to support almost every job or application. And with user
friendly controls and diagnostics, anyone can operate our equipment with minimal instruction.
Serviceability
Doosan has an extensive and knowledgeable dealer network. Our dealer-partners have a deep
understanding of your business and can provide the solutions you demand. All of our products are engineered and designed
with an emphasis on accessibility to make sure routine maintenance is quick and easy to perform without having to take the machine apart.


"The quality is a 10. The durability is a 10."
-Jack Anderson, Pape Material Handling
"Doosan has always performed well for us."
-Mark Grimes, Industrial Marine
"Parts and service are always there when we need it."
- Mike Venuti, Meruelo Group
Lay down mast features (LSC, LS, L6 & L8):
• A steel tower with enhanced corrosion protection
• Telescoping mast with a near 360 ̊ rotation and position lock extends 12' – 30' with dual, hand-operated winches and automatic safety brake
• Patented tower-locking system prevents telescoping during travel
The Right Spec for Your Small-Body Light Tower
Our LSC features a Kubota engine matched with a high output 6kW alternator, increased runtime and ease of maintenance and operation. Twelve units per 48' fla bed allows truckload maximization and cost effective transportation. For illumination of special events, road and bridge construction, emergency and disaster relief, and general construction sites, choose the Doosan LSC.
• Painted black steel towers internally coated to prevent rust and corrosion
• Able to withstand 65-mph winds with 4-point outriggers deployed
• Trailer equipped standard with full running light package, 2" ball hitch, and safety chains
• Industry-leading factory warranty providing 2-year/2,000-hour bumper- to-bumper coverage
• Options include a block heater, combination hitch, and LED light fix ures
---